- To international students
CHENG KUN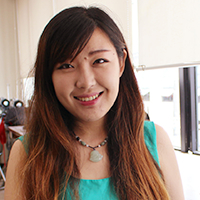 CHENG KUN
After enrolling at Mf&ac, Cheng Kun who came from China learns in full motivation about techniques and skills related to fashion through Mf&ac's original curriculum. Cheng Kun told us that she would feel touched every time during Mf&ac's very own events that can never be experienced during normal classes.
Why did you choose to enroll at Mf&ac?
I feel that Mf&ac has the perfect environment in which students can learn without any problem as the school is very well-equipped with various facilities. When I came here for a campus visit, I thought that it was amazing that classes are conducted in small groups and that the teachers would teach each student even the small details in a careful manner.
Among all the classes in Mf&ac, what was the class the left a deep impression in you?
The product planning class. The teacher who is currently working in the fashion industry taught us not just about designs and garment manufacture, but also on how to let more people know about the brand/clothes. I learned many new things from the class.
What was the incident that you had with your teacher that left an impression in you?
One time, I was in a design class conducted by a teacher from an American fashion college(Parsons The New School for Design) and I was able to experience something new and fun that I could never experience in Japan or China.
Besides the classes, is there any event that left an impression in you?
The fashion show. Although I was nervous, I was able to use all the knowledge that I have gained and put all my effort in my work for the show. As a result, I manage to show my work to plenty of people including the professionals and I was very touched.
When do you feel/what makes you feel that Mf&ac is the right choice?
The fact that the school provides us with plenty of classes that are suitable to various situations such as extra-curricular class and events.
Please tell us your dream and future goal.
I wish to create my own brand. With that as my goal, I will continue to work hard and strive.
Please give some advice/message to all the foreign students who are considering to join Mf&ac.
Mf&ac is very friendly towards foreign students. The teachers and students are kind to everyone. If you have anything that you do not understand during class, they would teach you until you finally understand. I hope that those who wish to learn more about the fashion industry would join us here in Mf&ac.
CHENG KUN

Fashion Creation Course

Cheng Kun has always been interested in fashion ever since young, but she once gave up her interest and pursued a degree at a university before working. However, she got tired of her everyday life that had zero motivation. So, she went back to pursue her interest in the fashion world that she admired. After spending a year studying at a Japanese language school, she enrolled at Mf&ac.
さらに詳しい情報は
パンフレットorオープンキャンパスで!