- To international students
GANTUYA AMARTAIVAN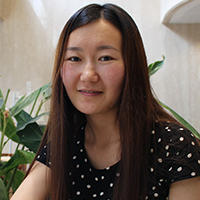 GANTUYA AMARTAIVAN
Gantuya Amartaivan, a student from Mongolia at Mf&ac with her teachers' warm guidance she is enjoying her student life at Mf&ac every day. So, what are the warm traditions of Mf&ac that fascinate many foreign students including Amartaivan herself?
Why did you choose to enroll at Mfac?
After I checked the environment at Mf&ac and the school enrolment explanation by the teaching staff, I felt that this school was the most ideal school for me to learn to be a designer. So, I chose Mf&ac.
Among all the classes at Mf&ac, which class left you with a deep impression?
The pattern-making class, because I wish to create and design my own pattern in the future.
What was the incident that you had with your teacher that left an impression in you?
I do not have a great command in Japanese, so, the teachers would always teach me patiently and carefully. I feel very grateful towards them.
Besides the classes, is there any event that left an impression in you?
When all of us gathered to look at various designs made by students at Mf&ac. I felt it was interesting.
When do you feel/what makes you feel that Mf&ac is the right choice?
I feel very happy ever after I was accepted to Mf&ac. I am able to see a brighter future for myself and I feel that I can create many designs.
Please tell us your dream and future goal.
I wish to open my own clothing company one day. In order to make this, I need to work hard.
Please give some advice/message to all the foreign students who are considering enrollment at Mf&ac.
It is very convenient to learn at Mf&ac and foreign students can improve their Japanese language skill very well since there are not too many foreign students here. Plus, the teachers are very friendly and the classes are very interesting too. You would feel happy after the classes. So, come to Mf&ac and let's all be happy!!
GANTUYA AMARTAIVAN

Fashion Creation Course

Gantuya Amartaivan first came to Japan in October 2013. She spent a year and half learning Japanese at a Japanese language school and in April 2015, she was enrolled at Mf&ac. She is currently majoring in fashion create and she hopes to be a designer one day.
さらに詳しい情報は
パンフレットorオープンキャンパスで!