- To international students
BHUJEL SAMIKSHA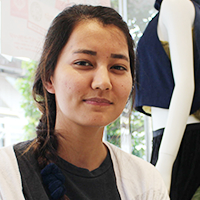 BHUJEL SAMIKSHA
Bhujel Samiksha is a student who came to Japan all the way from Nepal just to achieve her dreams. Her truthful and honest character helps to brighten up the day at Mf&ac, not just her fellow students, but also involving the teachers as well.
Why did you choose to enroll at Mf&ac?
When I was studying at a Japanese language school, I had to travel between Takadanobaba and Ikebukuro. Every time during the train ride, the train would pass by Mejiro. Everything started when I saw the signboard of Mf&ac one time.
Among all the classes at Mf&ac, what was the class the left a deep impression in you?
When my classmates and I went to watch a movie called "Hector and the Search for Happiness". I felt sympathy for the main character who embarked on a quest to look for the answer to the question "what is happiness?".
What was the incident that you had with your teacher that left an impression in you?
I usually feel scared when I talk to teachers because I do not have a good command in Japanese but the teachers here at Mf&ac would approach me in a friendly way.
When do you feel/what makes you feel that Mf&ac is the right choice?
Every day. Every class that I have gives me motivation and I enjoy them.
Please tell us your dream and future goal.
I want to create my own brand and be a famous designer. That is my dream.
Please give some advice/message to all the foreign students who are considering to join Mf&ac.
First, make sure you enroll with a stable financial situation. Then, enter the school with a strong feeling of wanting to study hard. Mf&ac has plenty of great things going on. So, let's all learn while having fun together.
BHUJEL SAMIKSHA

Fashion Creation Course

Bhujel Samiksha first came to Japan in November 2013. Then, she enrolled at Mf&ac with a firm confidence to be a fashion designer. She is currently studying hard to achieve her dream and to bring herself closer to the world of fashion from various countries around the world.
さらに詳しい情報は
パンフレットorオープンキャンパスで!